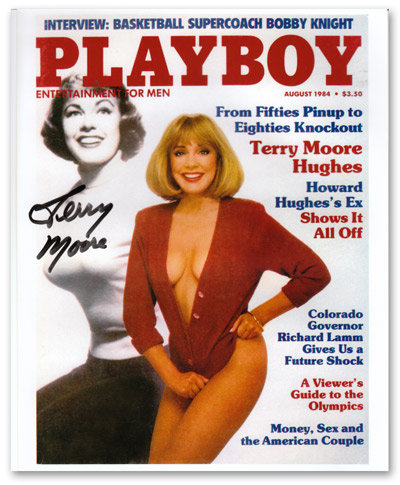 Once a Hollywood starlet with Oscar potential Terry Moore may be just as well known for her daring stint in Playboy Magazine. That's right, the woman who knew Elvis and Marilyn, dated James Dean, and made a slew of flicks in the 1950s and made news by claiming to be Howard Hughes' widow posed for Playboy when she was in her 50s. Unusual as it seems, it's all true. Back in the mid 8o's Terry not only resurfaced publicly as regards the Howard Hughes will, but because of her spread in "Playboy"! That's right, even though she was in her late 50s at the time, she graced the cover beautifully, and handled a tasteful layout inside, as well and may I add… she looked great!
Terry declared, "I was glad I did it!" I heard from everybody that I ever knew when I did it. They were all so nice. A lot of wonderful women contacted me, and said I was an inspiration to them. They were glad (at my age) that I did it, and it came out the way it did. It was all very positive. They've asked me to appear again in Playboy, but I doubt I will. I've already done that.
"I will say that besides questions on Howard Hughes, the main thing I get asked is 'How do you stay so young?' so, I'm going to do a book–not a 'how-to', but a story-style book dealing with the first star I knew, Mary Pickford, all the way up to Arnold Schwarzenegger. It will cover all the make-up secrets I've learned from the people I've known over the years." And I'm sure that book, like Terry Moore herself, will offer quite an interesting read.